DVD Snap 3 allows you to capture photos from any movie running in Apple's DVD Player.

Pick any scene you want and DVD Snap 3 either snaps a single photo or series of timed snaps in an interval of your choice.

All your captured photos are automatically taken to
DVD Snap's photo library where you can share or export them to a destination folder of your choice in various formats.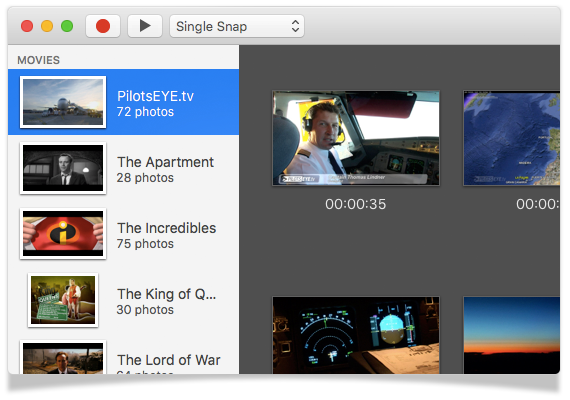 Everyone has different tasks to accomplish, whether you need a still image or entire photo series, DVD Snap has the right method for your case.

Think of a particular moment in your favorite movie, jump to the scene and hit snap. That's it - a short time later, your photo is saved to DVD Snap's photo library.

Let's say you're working on collages, mashups or studies and you are not sure which scenes are going to work best with the project. For this case, DVD Snap includes a feature called "Timed Snap".

Just select "Timed Snap" from the toolbar and hit the snap button.

DVD Snap is going to automatically snap a photo in your defined time interval while the movie keeps playing. Afterwards, you can quickly browse through your photo collection and decide which photos to export or delete.
It's that easy.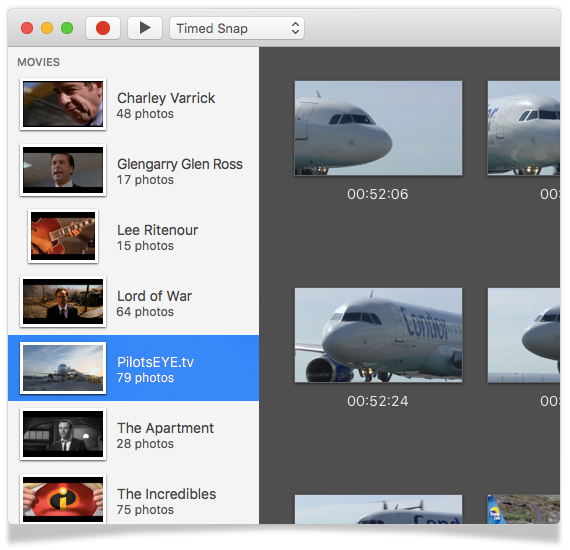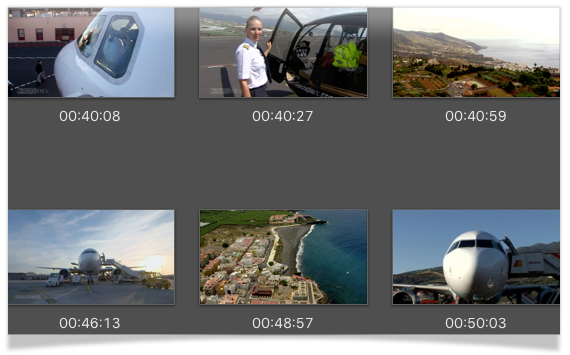 What is the best photo capturing application without the right management? DVD Snap 3 was especially designed to feature an intuitive, clearly organized and easy-to-use photo library. Snapped screenshots are automatically sorted by their timecode or creation date.

For a closer Quick Look preview, just select your desired photos and hit the space bar.

The photo library also comes with a handy search feature for the photo's timecode as well as a zoom slider for adjusting the photo size within the library. This can be especially useful when comparing entire photo series.
DVD Snap captures all screenshots in their original movie resolution (PAL, NTSC or HD) while optionally cropping all black bars during export.

Thanks to DVD Snap's own database, searching, loading and exporting of hundreds of photos takes just a few seconds.

Just drag your best shots to a destination of your choice and DVD Snap exports them labeled with the movie timeframe, creation date or a consecutive number.

If you prefer other common photo formats for further processing, just hit "Export" and choose between JPEG, JPEG-2000, PNG, TIFF and PDF.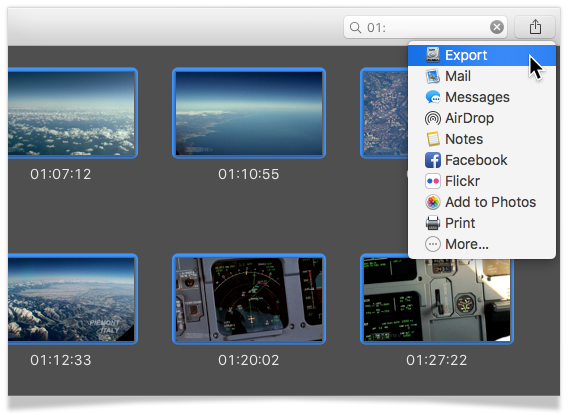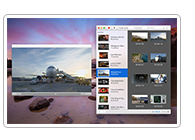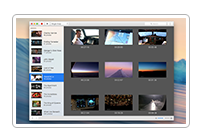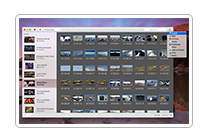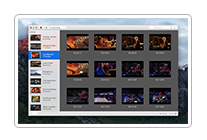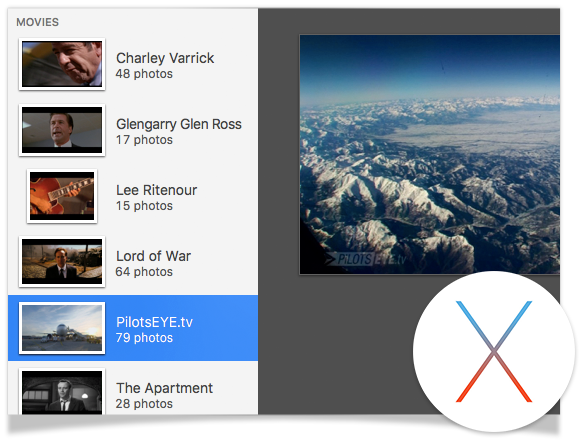 Since OS X Lion, DVD Snap 3 is the first and only application to feature screenshot capturing in Apple's
DVD Player.
The third major version of DVD Snap has been completely rewritten from the ground up to support Mavericks, Yosemite and El Capitan. (10.9 - 10.11+).
After an intensive development time, DVD Snap 3 is now the exclusive DVD Player screenshot-capturing-solution, featuring an all new user interface, focused on the beautiful photo library. Speaking of enhancements, photos are no longer taken upscaled in full-screen mode, but at the native DVD resolution. As usual, the new version is totally free for all previous users of DVD Snap.
(Slighty
older versions
of DVD Snap 3 are still available for Snow Leopard, Lion and Mountain Lion (10.6 - 10.8).)