Q: I lost my license key. What to do now?
Please send us an email including your name, the email address you have used during the purchase and name of the product you purchased. We will then try to find your purchase in order to send the license details to you as soon as possible. Please note that purchases made via the Mac App Store do not require a license key. If you lost access to your iTunes account, please contact Apple.
Q: I purchased a single license of your software. Can I use it on multiple Macs?
Our license policy is personal based. You are allowed to activate your single license on an unlimited number of Macs as long as you are the only one using them.
Q: Do you offer volume or educational discounts?
Yes, we do offer volume and educational discounts. Please let us know the estimated amount of licenses you would like to purchase so we can give you a special discount to be used later during checkout at our Paddle online store.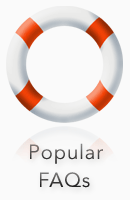 Contact
Welcome to our support page!
Please select one of our product icons to view detailed information. If your question or request is not covered in our FAQs, please feel free to contact us via email.
Thank you!